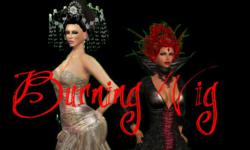 Denver Colorado (PRWEB) January 16, 2013
Burning wig was created by Veronica Vinyl, a veteran Professional Female impersonator/artist animator /and comedy writer. I realized that back stage at a Drag Queen show was the source for so much insane behavior, and dangerous comedy. Its a den of vipers in ladies foundations garments. Every episode is a brutal, hysterical, cat fight. Happening right now on Youtube. http://www.youtube.com/user/bigfaerie
The episodes are based around Veronica Vinyl, and Roxy Mountains. Roxy has taken the place of Vanity Kills, who died in a freak accident, when she fell off her platform shoes, and broke her neck on stage. Veronica and Roxy feign love and sisterhood for each other, but are in fact bitter, backstabbing rivals. Willing to go to what ever extremes to further their own careers, and love lives. They are also fabulous endearing, and always outlandishly funny.
The animation itself was created using Crazy Talk animator, and the voices are those of Veronica Vinyl and Barbara Elder, both veterans of improv comedy. The comedy is intentionally very fast paced. An average episode runs anywhere from 30 seconds to 2 minutes. We hit fast and hard with each episode. It's short attention span theater, about short attention span queens
Drag queens have always been the shock troopers on the forefront of the gay movement. As tolerance grows for the LBGT community, Drag itself has to adapt and grow with it. There is a Brand of comedy unique to drag that can be found nowhere else. It's often dark, shocking, a little dirty, at the same time its empowering. A celebration of life and female gender from a completely unique perspective.
Burning Wig is planning on releasing ten episodes in a season. Each episode script is sent to http://www.youtube.com/user/bigfaerie trusted Drag queens to approve it for authenticity and ultra sublimeness. The last thing we want is to portray our world in anything but the best light. Well…. Not the best light, Queens look best in dark smokey bars.
There is no such thing as a serious drag show. The Drag queen is a creature not wholly of this earth. They fly in the face of reality, and seek to transform, and become something more than where they started out. That is inspiring, and watching them project there glamourous view on reality is both funny, and uplifting.
Burning Wig is screening right on now on You Tube. Be apart of the fabulous world of Drag..

http://www.youtube.com/user/bigfaerie
Find More Comedy Press Releases
Related Posts
Receive the most popular
membership wordpress plugin
available today, you'll discover both free and premium plugins below. We have inspected the entire internet, evaluated hundreds of advised Wordpress plugins and selected the best.
Get
technology innovation
the most up to date modern technology information, including new item launches, revenues figures and technician industry efficiency details. Review articles on brand-new devices and models for future modern technology.
google seo tips
people ought to and ought to not be doing on your Web pages to make them rank greater in search engines. In a frequently altering SEO landscape, it is essential to stay updated about the altering practices and methods of optimization.